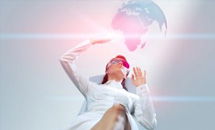 Sourcing Products: We research and find products abroad, with particular attention to those which are innovative, can increase the volume of business of our clients and enable them to seize new market shares .
Sourcing suppliers: We research, identify, select, contact and manages business relationships with companies and suppliers around the world. This service allows companies interested to establish long-lasting and productive business relationships with other countries.
Market researches: We analyze , on behalf of client companies, new markets, products and services adapted to the new demands that now the market requires to the companies wishing to start a process of internationalization of their business.
Evaluation and management of business risk: through advisory services , training and certification .
Occasional provision of buyers: we attend in trade fairs, business conferences and meetings around the world as representatives of companies appointees, providing a detailed reports and providing highly specialized personnel.
Networking of national and international sales: the Interprocom realizes and puts forward the necessary human resources to companies wishing to expand or create their own commercial network, organizing meetings and events.
MLS: the companies that collaborate with the Interprocom can use a platform- with a special section where it's possible to enter any stock of inventories – which enables secure online visibility around the world .
Mechanization of informations: we produce platforms and structures on internal computer or on the Web, organizing and solving computer problems of suppliers and customers .

Welcome to overseas customers: We organize the reception of foreign clients with catering services, events, transportation, using on demand also luxury goods (apartments, hotels, car, helicopter etc …).
National and international advertising and communication: manufacture of advertising and communication plans by using more conventional methods of advertising (such as newspapers and magazines, billboards, television and radio ) and methods of communication of the latest generation like catalogs, artwork, gadgets and websites .
National and international transport and logistics: the Interprocom handles relations with carriers, shippers, operators, customs and insurance, by road, sea and air, keeping our clients constantly informed of the situations and conditions of carriage of their goods.
Sales management training courses: service for companies that need to train their employees or new applicants , the Interprocom provides its expertise for the training of sales managers and product managers.